(*See giveaway info on bottom of this post)
UPDATE : CONTEST CLOSED 1/4/2013 Winner is shopgurl Thanks to everyone who entered!

When I was contacted to participate in the #HPFamilyTime campaign I was excited for the opportunity to use the  HP Envy 23 TouchSmart All in One for many reasons. First of all, now that my kids use touch screen tablets, they demand a higher level of interaction that "non touch" computers don't offer. Second, after covering the Windows 8 launch, I could not wait to try it out at home (other then the many times I played with Windows 8 at the Microsoft store). Third, I had a desk in our family room that I set up with the plan of putting a PC with a big screen that could be used for entertainment and for schoolwork. I already decided that an all in one would be the best form factor because it would be compact enough to move into the living room if one of my kids needed a quiet place to work.  So does the HP Envy Touchsmart All in One fit my needs?
Yes, not only did it fit in as the perfect family room computer, but the new Windows 8 operating system combined with the beautiful and intuitive touch screen made it also a family favorite. After I set up the security and Microsoft accounts for each user, I installed  Microsoft Office. The only challenge we had is that I had to activate the security software I installed on each account on the computer separately (but it was quick).  Our kids that are not easily impressed by tech were not only impressed – but quickly learned how to use the new Windows 8 interface (using a Touchscreen as well as a keyboard/mouse).
Here is a video I made of the HP ENVY 23 TouchSmart All In One unboxing. The set up was so easy (unwrap and a "one plug" in!).

The HP Envy 23 Touchsmart All in One is packed with premium features for great price (currently starting at $1,099! ):
3rd  Generation Intel(R) Core(TM) i5-3330S quad-core processor and 6 GB RAM (upgradable to 16GB) means fast processing and multitasking.
1TB hard drive  so it has lots of space for programs, photos and video.
6-in-1 card reader, 2 USB3.0 (fast transfer speed), 4 USB 2.0 (to plug in more accessories) and audio (micrphone and earphones) inputs. HDMI input to connect to TV or external screen.
Optional TV to broadcast live TV from your computer.  The full HD display enables viewing of HD content.
DVD burner  that can write data to blank DVD – so Grandparents can get a DVD copy of their grandkids on video.
HP wireless keyboard and mouse with Win 8 keyboard (with raised keys for easy typing).
All in one form factor with edge to edge sleek and modern design  that can be mounted on the wall with just one wire.
HP Quick Launch that has a fast boot up.and access to shortcuts.
Optional Solid State Drive.
HP Connected Photo allows you to sync photos across your PC, smartphone, and tablet.
HP TrueVision HD Webcam that works even in low light because of the "adaptive lighting to automatically adjust to changing light".
Beats Audio offers premium sound. Just add some bluetooth speakers to extend the sound even further.
HP Connected Music to manage music downloads, streaming services and Internet Radio.
Windows 8 operating system (built for touch) perfectly matched with a intuitive touch with 10-point multitouch technology that enables swipe and tap using all 10 fingers.
More information and configuration options for the HP ENVY 23 TouchSmart AiO is available at the HP Store.
Here is a picture of what the Windows 8 start screen with "tiles" looks like after I installed Microsoft Office. The Microsoft Windows 8 site explained "Each tile on the Start screen is connected to a person, app, website, playlist,  or whatever else is important to you. Tiles light up with the latest info, so you're instantly up to date. In one glance, you'll see that photo you were just tagged in, tomorrow's weather, and messages from your friends". Next – I can't wait to configure what Windows 8 apps/live tiles appear on the start screen. There are ones that are pre-configured so I had a great start.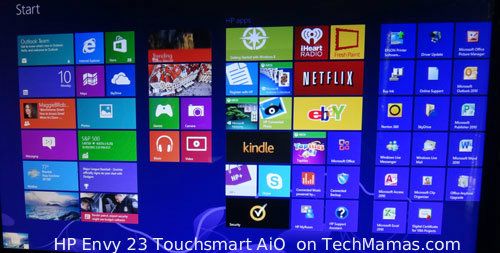 Searching for apps is easy, I just swipe from right to left and the bar below comes up. What was once "programs" are now apps that I can add as live tiles on my Windows 8 start screen: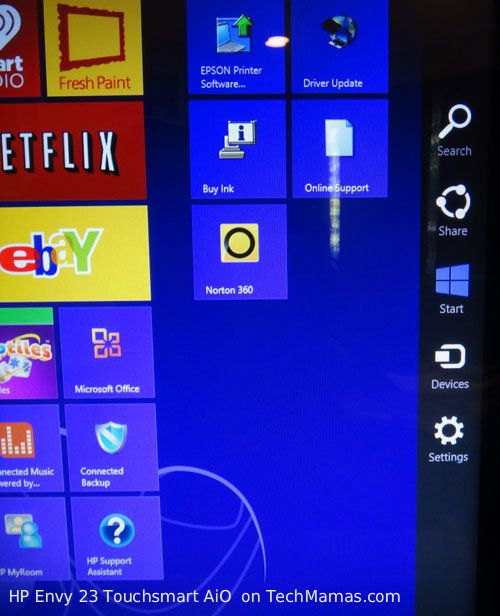 I will be looking for family management apps while my kids can't wait to try the paint apps and the Xbox apps.

One of the tiles on the start screen is called "Desktop" which allows me to easily switch to the standard (Windows 7) start screen view.

I can search for files the same way I did on Windows 7 if I want, but also switch back to the Windows 8 start screen by swiping on bottom left or right of the screen.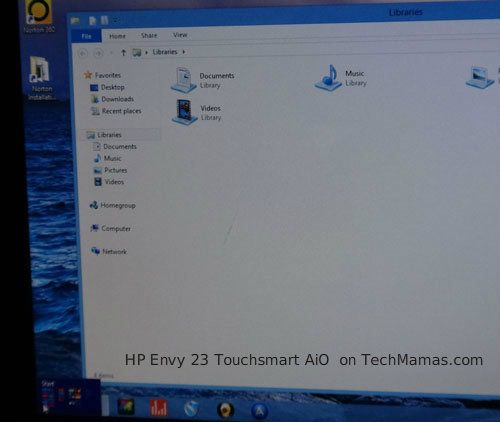 My kids enjoy using the bright, crisp and intuitive screen for the HP ENVY 23 TouchSmart AiO: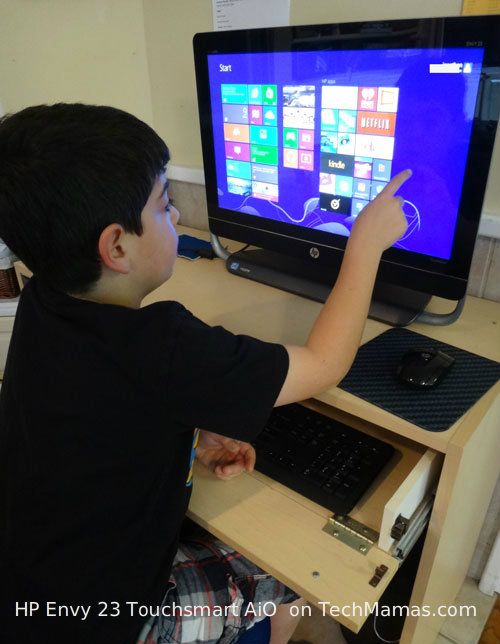 They immediately found the Fresh Paint program and with a "touch" started creating a digital art project.

Of course – a smile face was the first work of art that was created!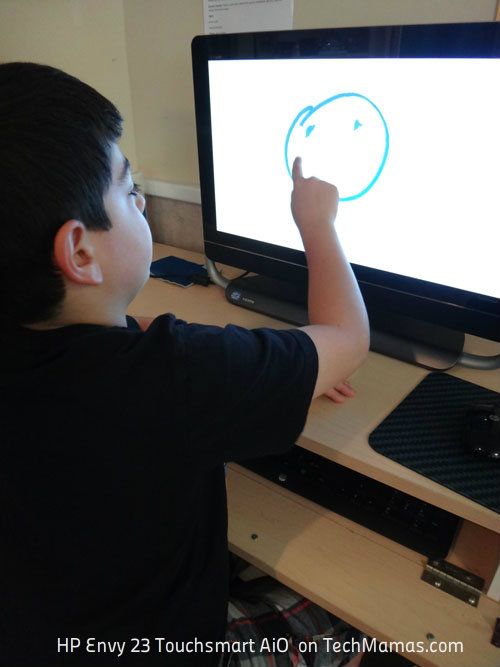 I will be posting next week with my test drive of the other features of the HP ENVY 23 TouchSmart AiO and Windows 8. For now – how about a GIVEAWAY that will enable ONE winner to have one for their own family.  To Enter – use the widget below with all the details!
***Disclosure: I wrote this review while participating in a program on behalf of HP and received an ENVY 23 TouchSmart AiO as a thank you for participation.