In November I went to a conference called Camp Mighty which was a wonderful weekend event offering inspiration on creating life lists. Part of Camp Mighty's mission is charity, and more involvement in charity happens to be one of the top items on my life list. Lucky as it was, I had the opportunity to work on my charity life list item by participating in a program Camp Mighty partnered with AT&T on  called Wish-A-Day. AT&T worked with the Make-A-Wish foundation to grant one wish a day for a month to underprivileged children suffering from life-threatening medical conditions. To learn more about how you can make a wish come true, visit this link: Wish-A-Day Sweepstakes from AT&T. But I had the chance to make one local organization's wish come true.
My task was choosing a charity to donate a generous amount of AT&T devices to. I was more then thrilled to pick an organization that is near and dear to my heart: Lucile Packard Children's Hospital and the pediatric programs at the Stanford University School of Medicine.  I had my three boys at the hospital and received great care. Lucile Packard Children's Hospital Child Life team of specialists work with the children throughout the hospital.  They do everything from preparing kids for procedures, helping them understand their disease, to creating play opportunities in the Forever Young Zone playroom. Pictured left to right is Debbie Burkholder,  Assistant Director – Children's Fund, Colette Case, Director – Child and Family Life Services who met me at the AT&T store to pick up their devices and Beth Blecherman, TechMamas.com.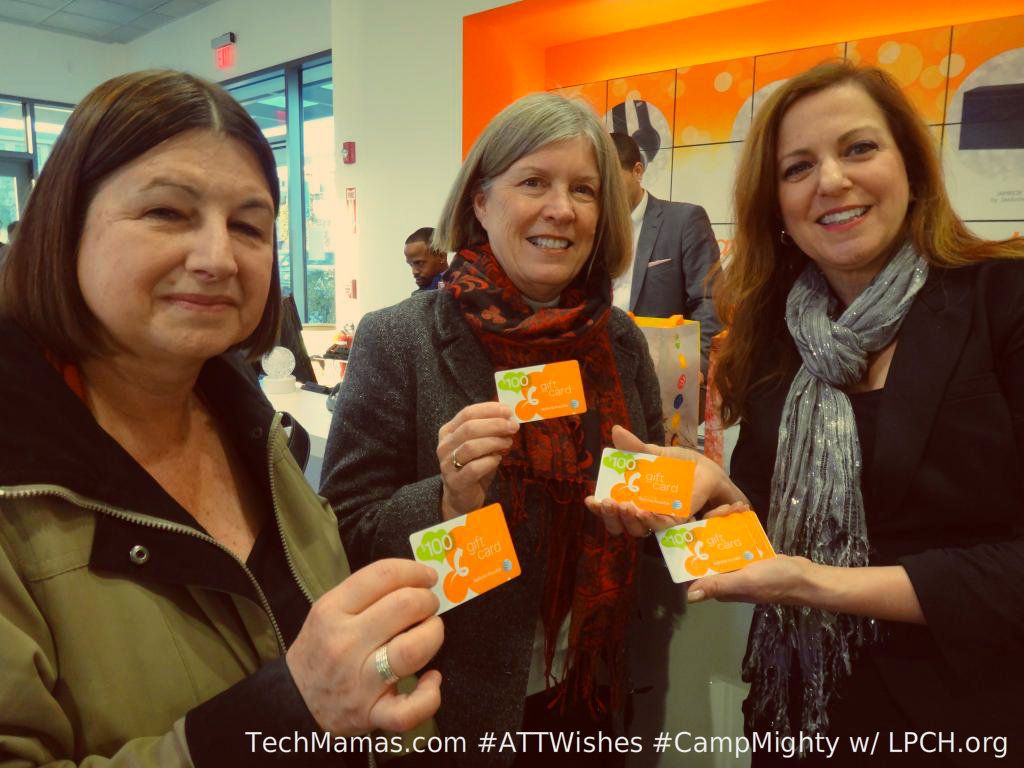 Their
wish was for tablets (such as the iPad) to help children staying in the hospital and (pay as you go) AT&T Go Phones to help parents of children.  Here is information on how their tech "wish" devices will be used and the video of the fun event:
The Department within Lucile Packard Children's Hospital that will be using iPads for the Child and Family Life Services Department.  Certified Child Life Specialists use the IPads to prepare children, at their developmental level for procedures and surgeries, using photo albums, sounds (like MRI), miniature medical equipment, dolls, etc.
They explained" An example would be preparing a child for an MRI scan.  We would show them the photo album that explains about  their MRI, let them listen to the sound of the MRI, have them practice staying still and then deciding on a coping mechanism such as watching a movie, or thinking of a favorite place while they have the scan.  If the child understands the procedure and can stay still, we do not have to give them anesthesia which then reduces the risk to the patient and costs less money to do the test.  The child also feels a sense of accomplishment which can carry over to other tests, etc. they may have.  We also use the IPads for distraction, so if a patient was getting stiches in their foot, we might have them play a game on the Ipad with them while the stitches are being put in."
The AT&T Go Phones will be used by the Social Services Department within Lucile Packard Children's Hospital.  They  will let parents who need to stay in touch with Lucile Packard Children's Hospital and their doctors but do not have a phones.
More information on the Wish-A-Day Sweepstakes (ends Dec. 20)  from AT&T can be found by clicking here.  The Camp Mighty website link is here for those wanting to work on their life list. The Lucile Packard Children's Hospital's website is LPCH.org. Philanthropic support to the Lucile Packard Children's Fund can be found at (www.supportlpch.org). The children's fund provides care for all children who come to Packard in need of medical treatment regardless of a family's ability to pay. It also provides services to children and families not covered by insurance, like child life services, the chaplaincy program, and medical interpreters.  Additionally it supports innovation pediatric research to find new discoveries for advanced treatments and cures for pediatric illnesses.
Disclosure: This is a volunteer project I did to give back to my community.