Today is the official launch date of Windows 8. I will be heading to my local Microsoft Store to check out the new devices, but all the information can also be found on the Microsoft Store online. I have seen Windows 8 demos but not had a chance to review the new devices (which I look forward to in the future). But yesterday I did have the chance to watch the NYC Windows 8 launch webinar. These are my notes from the launch presentation covering what I thought were the key items discussed:
The (Windows 8) concept is gives you "access to what you use more frequently, websites you like and people you want to connect with. Glance and you will know what is going on in world – Windows 8 keeps you connected to all stuff in the cloud. It is natural experience (a new look)– log in just once (lights up with your life). See all of your friends on social networks, co-works on outlook, photos , docs from Skydrive, Music, Video – will all be there".
"Everything and everybody that you care about – in 231 markets and 109 languages around the world…. 1,000 systems approved for Windows 8 that are thinner, boot ½ time, 1/3 weight, 3x faster.  The new Windows 8 tablets and computers have improved features such as longer battery life, are power efficient, touch optimized and have security... All Windows 8 users can access new apps and there are developer friendly terms of Windows 8 store. Difference is that it runs apps from window store, which are easy to acquire, remove and to upgrade applications….".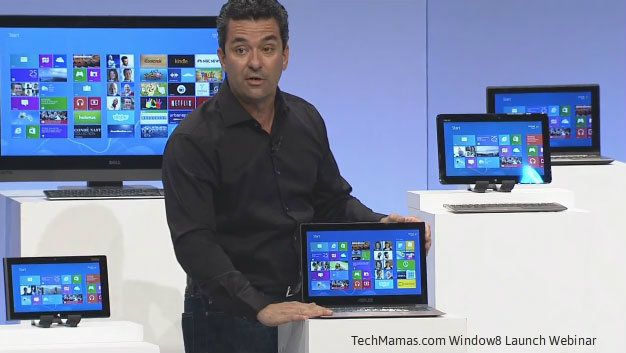 "Many new Windows 8 devices are touch enabled – but also work with keyboard, mouse and stylus.  Along with touch controls, you can use the trackpad to move tiles to zoom in and out (options to get around Windows).  And when mouse is pointed to corner, you get to the start screen – right click to system tools. Pricing options include affordable (Touch PC's that starts at $499) to high end ... Brought together PC and  tablet – for work and play. One device carries best of PC and tablet experiences.  Are these new designed PC's? Yes. Are these newly designed tablets? Yes.. Some flip, convert etc.. The best of PC's and tablets in one form factor."
There are three Windows versions: Windows 8 , Windows RT and Windows PRO.  It is important to understand that " Windows RT contains many of the same features as Windows 8, but is a new operating system for thin and light PCs" . The best way to learn about the different features of each version of Windows is to visit the "Which Windows is right for you" page:
The webinar also included mention of the many hardware partners including Dell, Acer, Samsung, Asus, Toshiba, Lenovo, Sony, Microsoft and the new chip ( processor) options.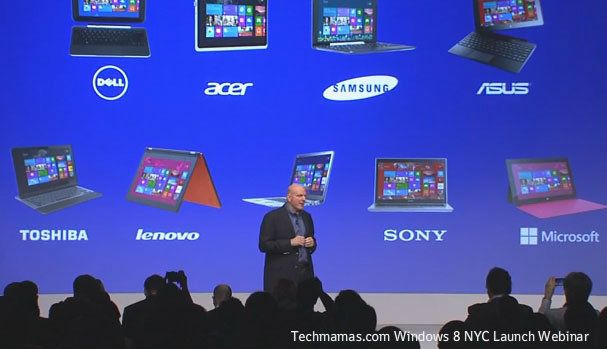 The other concept discussed is that "Microsoft is all in one – bringing together Microsoft Office, Bing, Internet Explorer, Outlook, Skydrive, Skype and XBox.  Win 8 comes with mail, calenders, photos and browser.  With Excel 2013 – you can side by side run excel and apps at same time.   IE10 is here – fast, fluid and perfect for touch.  Put apps with your favorite websites on the start screen. Redesigned MSN – first website full set up for touch in win8 world. Launched outlook.com – works seamlessly on web and PC. Skydrive for storage and new Skype app (always on and immersive, easy to use).  Windows 8 has a built in Bing search and re-designed Bing search app".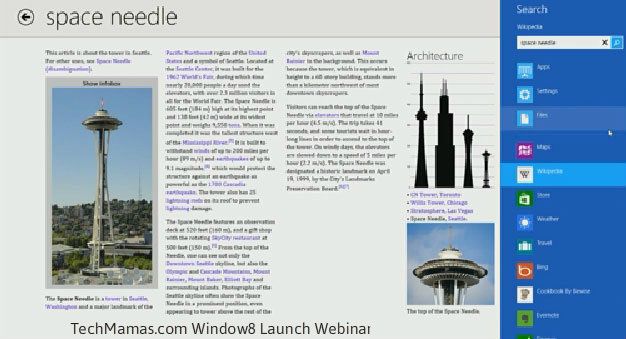 "The new apps are designed to keep you up to date on everything going on the web (Bing Travel, Bing weather, Bing sports ,etc – from top media partners)."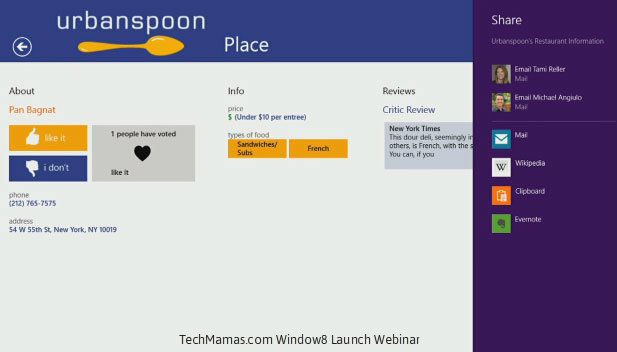 " Xbox Music (create own playlist from global catalog), new features with Xbox video and new XBox games"  also launched. For example " with XBox Video you can select movie from win 8 tablet and can play on Xbox – when you watch movie it serves up relevant info on what you are watching – like info about actors etc."
There will also be brand new Windows 8 phones coming out this month. The concept is that when "people choose Windows 8 there is phone that works in similar way: access same data,  share same info, uses live tiles and same Microsoft account from access playlist in Xbox music and documents in Skydrive".
Head out to retail store and connect online. Here is the link to download the Windows 8 upgrade for those interested ($39.99 online). For those that have seen or used Windows 8 – what devices have you used it with and what do you think?
Related:
Disclosure: This is a press update. The information provided are my notes of what I thought were the key points from the webinar and not directly a transcript.
This is not a paid post. I am a Windows Champions blogger and I received loan of a laptop and may receive awards (in the future) from Microsoft to post my opinions about Microsoft products.