I have a regular battle with my kids when it comes to candy. I always tell them that candy in moderation is fine, but I object to that candy being filled with artificial ingredients. I always tell them – sugar is sweet – why do they need so much junk in candy? When the UNREALTM team contacted me about their new candy line coming up (and hired me to host a local event, please see disclosures at bottom of this post), I JUMPED at the chance.
Why? Here are the details from the UNREAL press information: 
"UNREALTM, is a new generation food company with an outrageous mission: to "unjunk" the world. UNREALTM is starting with candy – the worst offender. As you all know, most people think corn syrup, hydrogenated oils, artificial ingredients, preservatives, and GMOs are there for us, to make candy taste better. Sadly, they're really there to make candy cheaper (and more profitable) to manufacture.

Our UNREALTM candies have replaced the junk in candy with good stuff: double the cacao, more peanuts, real milk, cane sugar, and organic palm fruit oil. Naturally, without all this junk, we think the candy tastes better! But UNREALTM candies also have substantially less sugar, and more fiber & protein than other leading candies."
The most exciting thing is that UNREAL has the same pricing as other candies and will be available all over the country soon: Here are the stores where it is already available now: CVS, Micheals, Rite Aid and Walgreens. UNREAL will be available soon at Kroger, Target, Rite Aid, Staples, Fred Meyer, Ralphs, BJ's, Food For Less and many more national retailers.
The next big question is: Does it taste good?  I eat chocolate each day (it is my daily splurge) so taste is an important factor for me. My kids and I tasted UNREALTM brands available and loved it! It is creamy and because of the real ingredients I can taste the natural flavors bursting out in each bite. It also makes me feel good that it has "less sugar and more fiber & protein than other leading candies." My son even gave samples to his picky skateboarder friends and they loved it (but did not care if it was unjunked or not – they just want it to taste good). I started bringing my UNREAL  candy samples to dinner parties to give out for dessert and all seemed to have the same response "Wow, that is good". My favorite was UNREAL #41 Chocolate Candy Shell but my kids loved the UNREAL #77 Chocolate Peanut Butter and UnReal #54 Chocolate Caramel Nougat bars.

The candy shells of my favorite UNREAL #41 Chocolate Candy Shell uses natural ingredients instead of artificial dyes for the colors. For example, the yellow coloring in UNREAL candies uses tumeric, red uses beets and blue uses cabbage. My kids and I think the natural coloring tastes yummy, although one of my friends noted it was not as sweet as the "artificial" candies she had been eating.  My feelings on the natural colors was that it allowed me to taste the sweet and smooth chocolate instead of just tasting the candy outside. I just loved it. At first it caused a problem because I could not stop eating them. My kids were also shocked that I stored the UNREALcandies in our fridge in a place they could easily get to.. I reminded them again that the only reason I did not stock our fridge with candy in the past was because I could not find budget friendly candy that had natural ingredients. But I also reminded them that they still need to follow the "everything in moderation" rule.
I  have to admit, the moderation rule did take a few days to settle in. But it finally did.
The story behind UNREAL is inspiring, the idea starting from a parent wanting to offer his children (and others) candy with real ingredients. Here are details of the UNREAL story from the website:
A few years ago, Michael and his 13 year old son Nicky got into an argument over Halloween candy.  Nicky came home with his bag of loot, went to bed, and woke up the next morning to find that his dad had confiscated most of it.  It played out the way these fights normally do, with the candy gone and Nicky going to his room.

Later, Nicky did some research online (to prove to his dad that candy isn't so bad).  He discovered that his dad was right (for once).

It's not that Nicky thought candy was healthy.  It's that he didn't know how bad it really was. What Nicky learned was that the worst parts of candy (like hydrogenated oils, corn syrup, artificial colors, flavors, and preservatives) aren't there to make it taste good.  They're there to make it cheaper to produce.

Nicky had a hunch that without the junk, candy could taste better. With the help of his older brother Kris, and his dad, they set out to prove it.
I also agree with the overall mission of UNREAL :  "To challenge what we've come to accept in our food and its effect on our health.  To change the way junk food is made here in America and around the world.  To unjunk the world".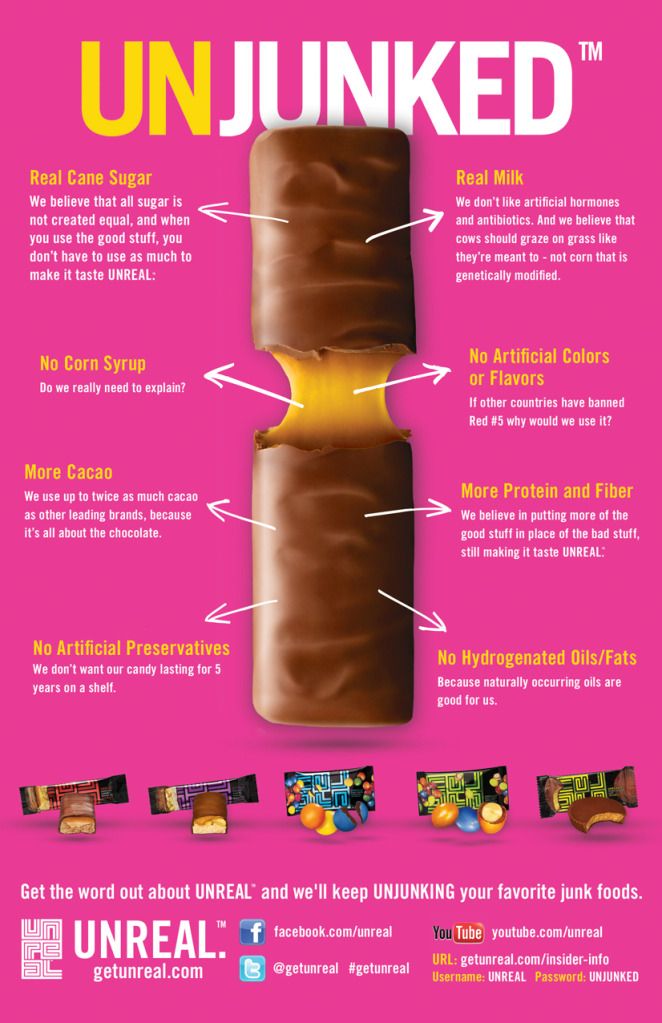 UNREAL is also included in the "shop healthy" section of Healthy Child Healthy World, an organization that has a similar mission that "ignites the movement that empowers parents to  protect children from harmful chemicals."

Website: http://getunreal.com/
Twitter: https://twitter.com/#!/getunreal
Facebook: https://www.facebook.com/unreal
Disclosures: UNREALTM hired me to host a party to introduce their candy to local bloggers. I was given samples for my family to try. I am not required to blog or share on my social networks, my words are my own. I am joining in the unjunk movement because I am a mom that wants to offer real food for her kids. And I happen to love "real" chocolate.