Recently, friends asked me about my summer and one of the highlights I mentioned was being invited as part of the media to cover Disney's California Adventure Park Grand Re-opening , including two new themed lands: Cars Land and Buena Vista Street.  You just have to see it to believe it.
When visiting Disneyland Park, with Cinderella's Castle and rides from Pirates of the Caribbean to Star Wars, it's very clear that the park was created so that Main Street USA is the grand entrance and centerpiece that sets the stage for a great park experience. Similarly, with the recent Disneyland Resort expansion, guests enter California Adventure Park on Buena Vista Street, the striking anchor of this new park.  The shops, period costumes and architecture of Buena Vista Street were inspired by the history and experiences of " Los Angeles in the 1920's similar to what Walt Disney experienced when he came to America".
The merchandise stores run the gamut from gifts to clothing, home accessories to photos. Highlights include Big Top Toys,  Los Feliz Five & Dime and Julius Katz & Sons (home decor and Kitchen), Oswald's, Atwater Ink & Paint, Elias & Co. (apparel & accessories) , Kingswell Camera Shop ( for Photopass). Food opportunities vary from Fiddler, Fifer & Practical Cafe to Clarabelle's Hand Scooped Ice Cream,  and Mortimers Market (a quick stop for fruit and other healthy snacks). Trolley Treats, with a giant rock candy mountain in the window, is another decadent stop on the sugar-rush tour. The ice cream is top notch, but I really loved the chocolate covered pineapple on a stick.
For those looking for their caffeine fix and willing to accept a modern store in a classic 1920's setting, yes… there is a Starbucks on Buena Vista street.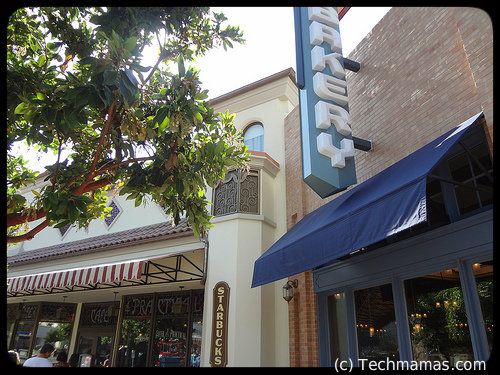 The Carthay Circle Theatre on Buena Vista Street was inspired by the California movie palace where Snow White and the Seven Dwarfs premiered in 1937.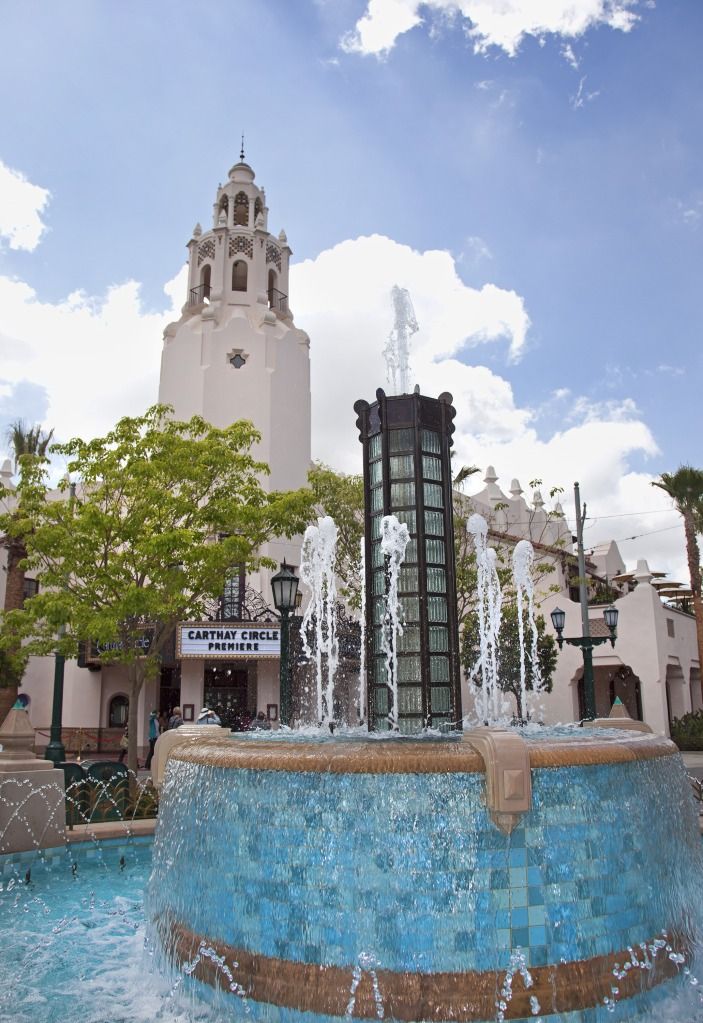 The Cathy Circle Lounge on the ground floor is a great place to view the historic photographs and exhibits as well as enjoy fun appetizers and drinks for the whole family (with new specialty drinks for adults as well).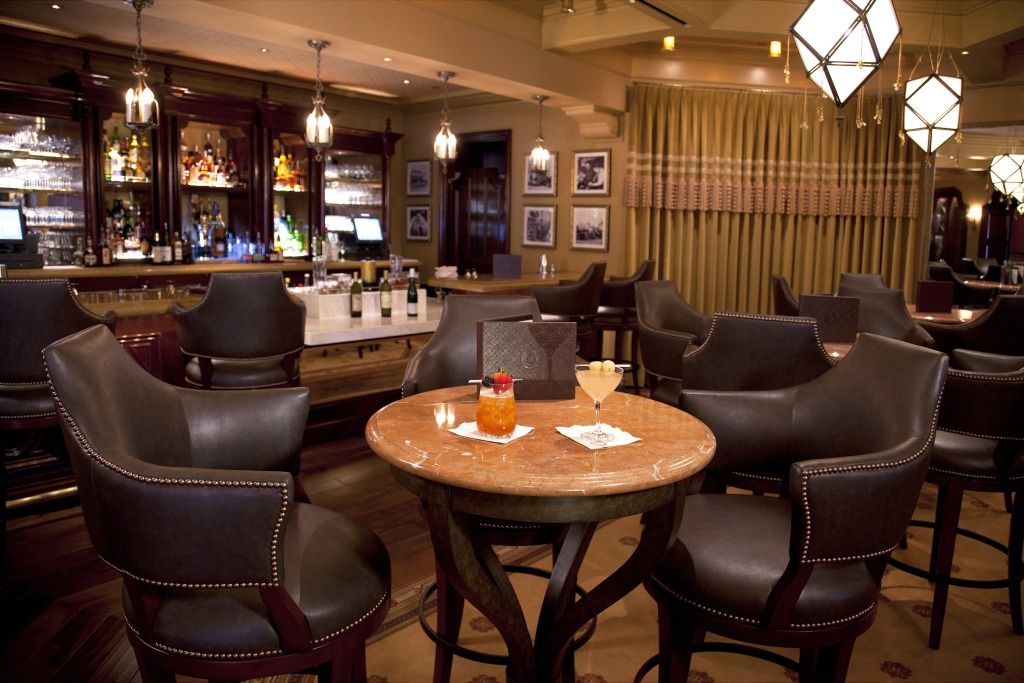 The second floor Cathy Circle Restaurant serves seasonal (utilizing fresh local ingredients) Southern California cuisine for the whole family with an extensive wine collection and creative drinks for adults.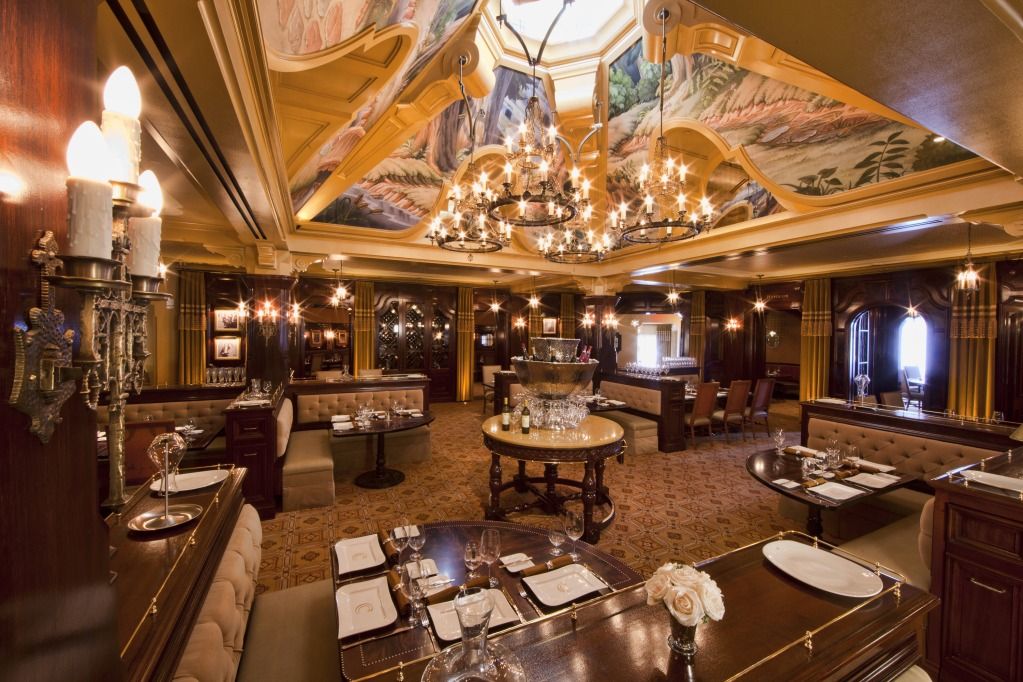 The press briefing mentioned some details of the mouth watering menu including new items such as watermelon salad, strawberry chicken, 4 to 5 different type of fish and special made biscuits with cheese and apricots. Similar to the Wine Country Trattoria or the Napa Rose, the Carthay Circle Lounge and Restaurant offers ways for people of all ages to have a dining experience tailored to their needs. Those staying at Disneyland Resort properties and want a fun place for their kids to stay while they have an Adult night out should check for the child care services offered. While staying at the Grand Californian Hotel I utilized  Pinocchio's Workshop,  which enables children 5-12 to enjoy their own night out (for a fee). My twin 9 year olds had a fun night out (even watched fireworks) while  I went to on a night out with my friends.
The Red Car Trolley, based on Los Angeles' historic Pacific Electric Red Car Line, combines storytelling entertainment with transportation.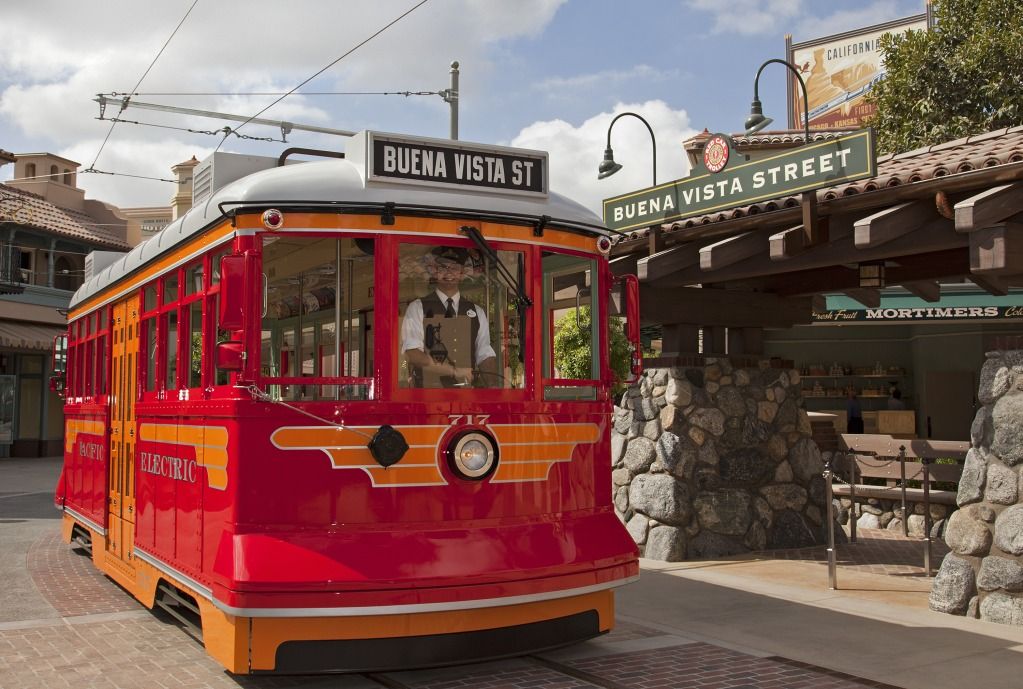 The "Red Car News Boys" and "Five & Dime" are entertainers using the street as a new stage with shows throughout the day. A simple walk down Buena Vista street could result in park goers engaging with Disney Cast members in stories and dance.
Vacationers trying to capture these magic moments but finding their batteries need a boost will be happy to know that several lockers at the beginning of Buena Vista Street look old fashioned but have outlets inside to refuel your phones and cameras.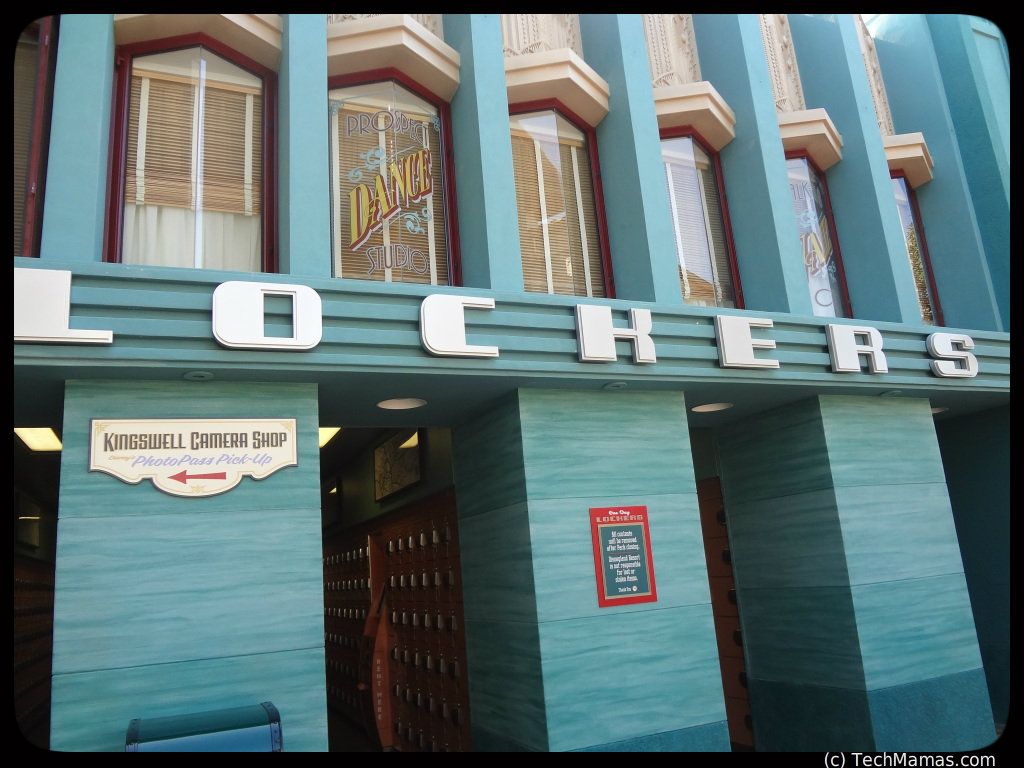 The other big expansion in Disney's California Adventure was the addition of Cars Land.  I must admit, my kids and I could not imagine how to bring Radiator Springs to life with Lightening McQueen, Mater, Luigi and the other characters. But we could not wait to experience it for ourselves (really, we were told to slow down and stop running…)
Of course the collective imagination of the Disney  Imagineers, Disney "cast" members and Pixar prevailed to create the feeling of walking onto the set of Cars – but in real life! In the movie Cars , Radiator Springs was a forgotten town somewhere along Route 66. While the actual historic "Route 66 runs 2,448 miles from Chicago to Los Angeles, the Route 66 in Cars Land is approximately 525 feet long and 23 feet wide. When night falls, 16 neon signs light way along route 66."
To accomplish this feat of fantasy, Disney not only teamed up with Pixar with Walt Disney Imagineering but also sent teams to Route 66 to experience the towns and savor local food. As a result, Disney's Cars Land has the look and feel of the real Route 66 (and fictional Radiators Springs) but also smell and tastes of this unique part of the United States.
The two main food locations are called Cozy Cone Motel and Flo's V8 Cafe. At the Cozy Cone Motel, all the food is delivered in (yes… you guessed it) cones.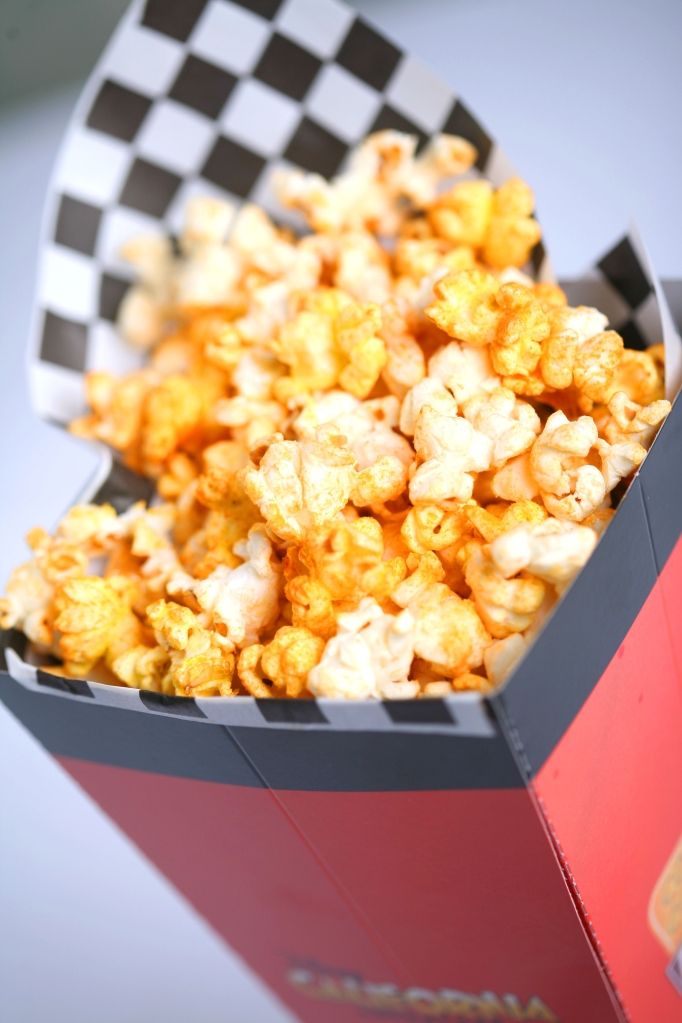 My kids could not get over the "pop-cone" (pop corn in a cone) but I loved the "Chile Cone Queso" (chili in a corn bread cone that is easy to eat on the move).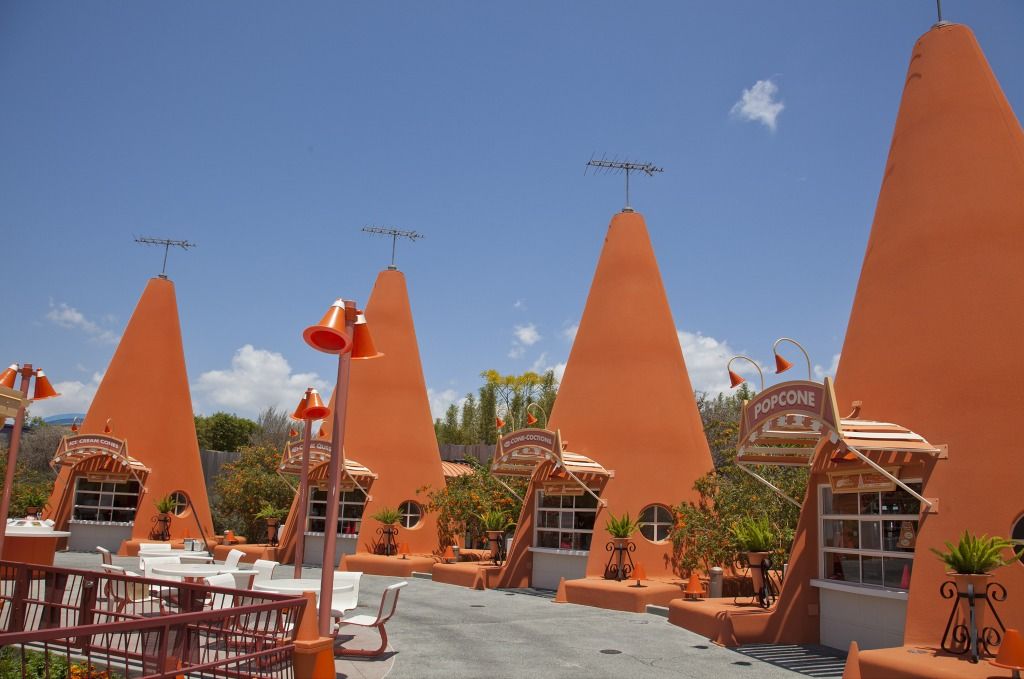 Flo's V8 Cafe is decorated to the exact theme of the cafe of the same name in the Cars movie, combining this ambiance with homestyle food representing the real Route 66. It is a great food stop during the day but it also comes to life with neon signs at night.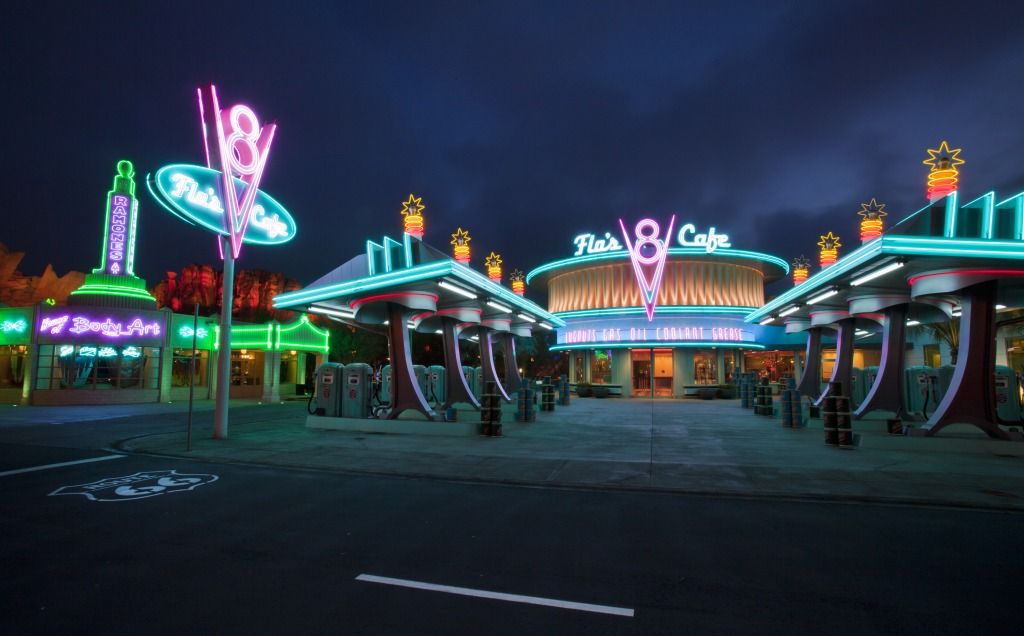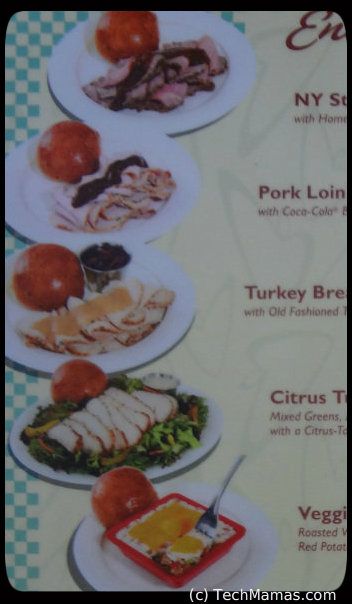 I really enjoyed the Citrus Turkey Salad with rotisserie Turkey, mixed greens, arugula, carrots, cucumbers and yellow peppers tossed with Citrus-Tarragon dressing. Other dishes that I wanted to try were the Route 66 comfort N.Y. Strip Loin with gravy or the Veggie Tater Bake with roasted vegetables, cauliflower, bulgar wheat, soy crumbles, smashed red potatoes topped with cheddar cheese.
The kid's menu had park staples: mac & cheese, turkey sandwich or roast beef sandwich. For dessert there are shakes and selection of pies including a "worth breaking a diet for" chocolate mud pie.   
For a quick bite, the Fillmore's Taste-In has waters, fruit, hummus and other healthy snacks on the go. My pineapple addiction was satisfied there by the shop's fresh cut pineapple on ice, so amazingly cold and refreshing. I also fueled up on vitamin water and the kids filled the tank with lemonade. We were ready to race!
CARSLAND ATTRACTIONS
Cars Land's three attractions are Mater's Junkyard Jamboree, Luigi's Flying Tires and Radiator Springs Racers.
Mater's Junkyard Jamboree has 22 moving  "baby" tractors, inspired by the Cars movie, that dance (in a whip style) to Mater's Hoedown tune. Both my 9 year old twins and my "too cool for some rides" 13 year old were enjoying every swing. Make sure to check out the license plates on the baby tractors (and Radiator Springs Racers). The letters represent initials and birthdays of key contributors to the Cars Land project from Walt Disney Imagineering and Pixar Animation Studios. The minimum height requirement for Mater's Junkyard is 32 inches.
The next attraction is Luigi's Flying Tires where host "Cars" characters Luigi and Guido take the Disneyland Flying saucer ride to the next level with motion controlled "tire" saucers that float on air like a puck on an air hockey table. We got a briefing on the details of the ride, then the tire race was on.
Big, inflatable balls are available for throwing at friend, family and stranger alike. The 6,714 air vents keep the tires floating approximately two inches above the ground and shifting body movements guide direction of the vehicle across the 8,000-square-foot Italian garden and tire storage yard.
Add in the music and the result is one big "tire" party. The decorations in the attraction were inspired by the Fettuccine-brand "Cuscino D'Aria" tires featured in the movie and included fun new twists including bushes sculptured into tires (I wondered how I could do that to our bushes). Each oversized tire has room for either two adults and one child or one adult and two children (plus a minimum height of 32 inches). But my boys and I decided to go in separate tires so we could play catch with the beach balls.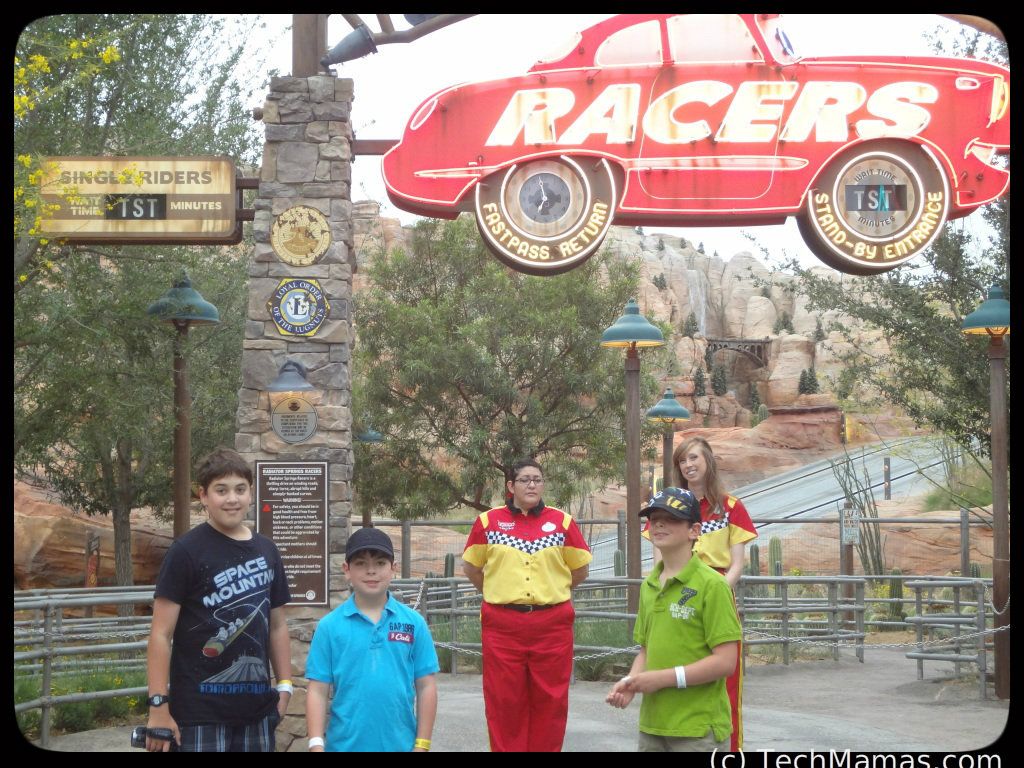 Last but not least, the main attraction of Cars Land is the Radiator Springs Racers, an adventure that takes you on an exciting, high-speed race through the majestic mountains of Ornament Valley.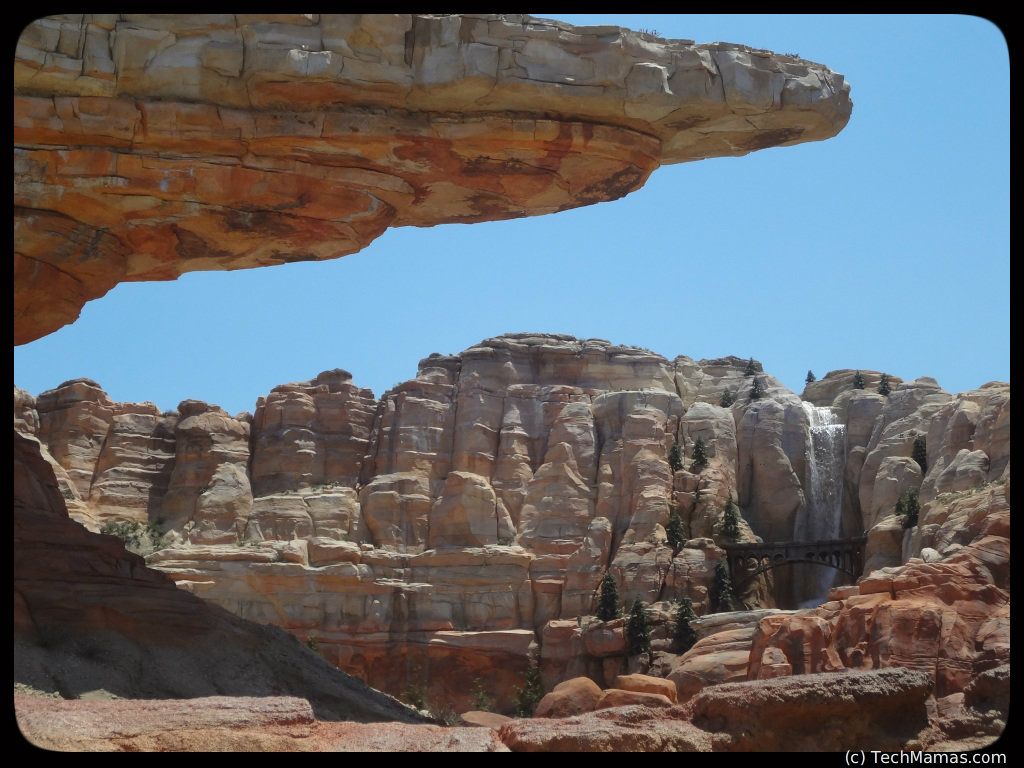 The  mountains around Radiator Springs Racers beautifully blend the feel of the real Route 66 with the vibrancy of the animated Radiator Springs from the Cars Movie. It is all brought to life with 280,000 square feet of rockwork that peaks at 125 feet in height, using 4,000 tons of steel  and many buckets of plaster colored to perfection. Ornamental Valley mountain range is the largest rockwork created in any domestic Disney theme park.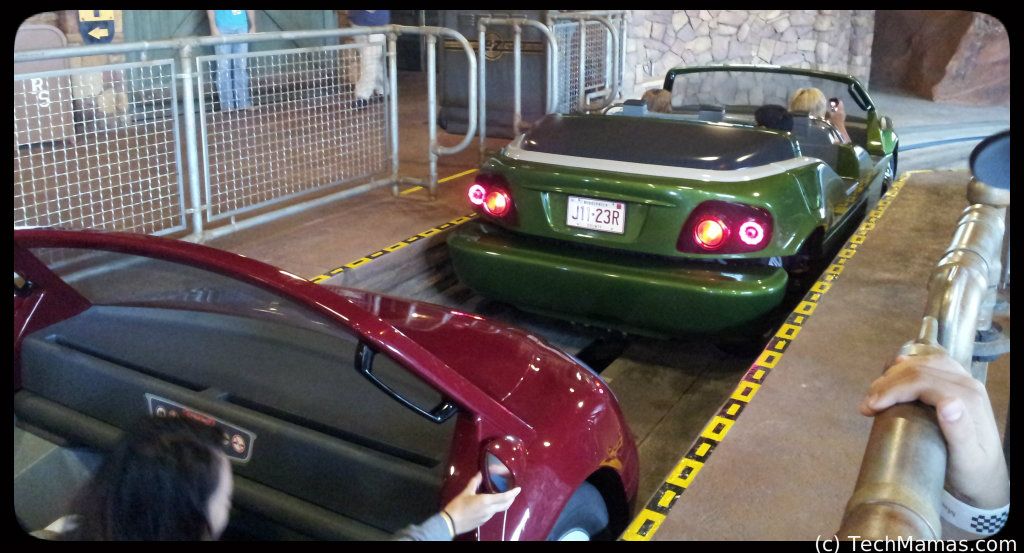 But that is just the start of the Disney and Pixar Magic. The Radiator Springs Racers ride has two six person convertible racers that tear up the course on parallel tracks. The course starts with a tour of the movie themed Ornament Valley mountains and Radiator Falls to music created by the Cars Movie composer Jonathan Sacks.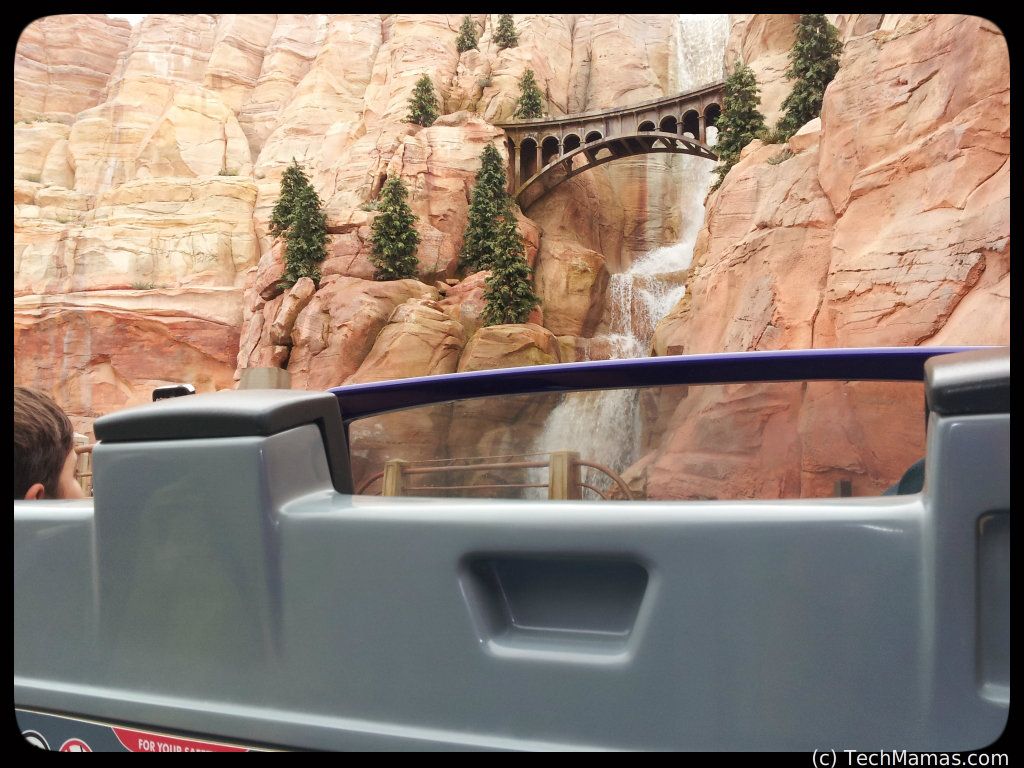 Next is a trip indoors to a world where the Cars characters come to life and eventually stop at either Luigi's Casa Della Tires or Ramone's House of Body Art for racing tips.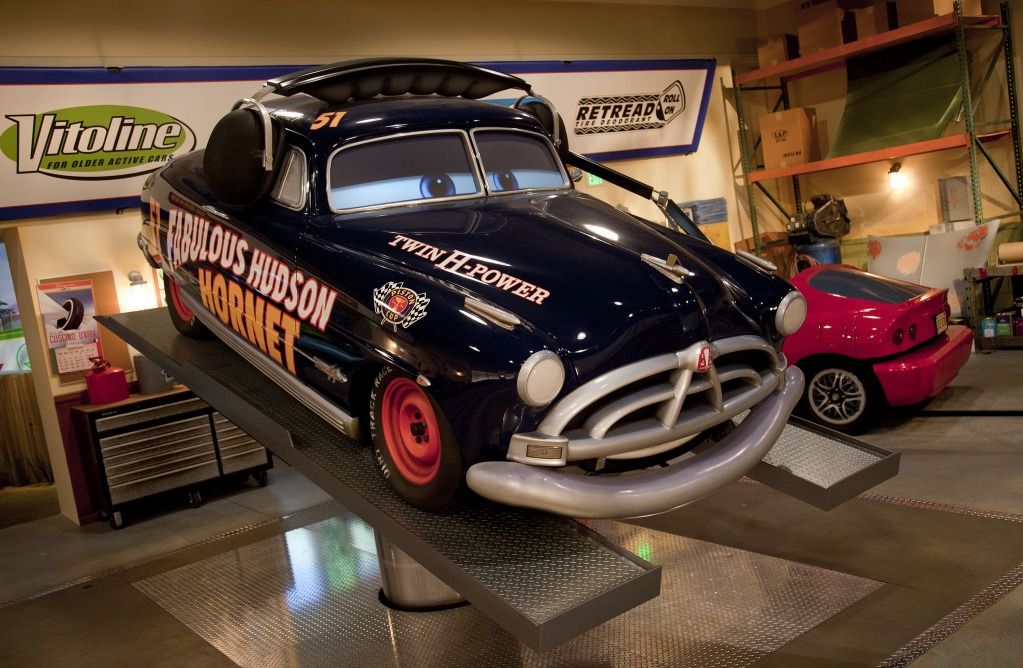 After the pep talk, the Radiator Springs Racer high speed race for the prized "Piston Cup" begins on parallel tracks.
As part of my media tour of Cars Land, I had the fun opportunity to take a Radiator Springs Racers ride with Head Engineer Steve Goddard. I asked him how they made the Radiator Spring Racer cars feel so powerful and of course the answer lies in some serious behind the scenes tech magic. The main computer communicates to each car's onboard computer to control the speed and location of each of the 31 cars, available in 8 colors and different styles reflecting each car's different personality. The roller coaster rails and other technology deliver the cars "green" electrical power as well as guidance, while the computer randomly chooses a race winner to cross the finish line first. The speed and force is fast enough to feel the power yet fun for the whole family (we all had our hands up in the air cheering). New to Radiator springs is Taillight Caverns, which Disney Imagineers developed as "a stunning finish to a dramatic race".

Like many park rides, this one offers the ability to purchase digital or printed pictures after the ride is over, worthwhile for no other reason than to just capture yourself in true racing form.  The Radiator Springs Racers ride does offer Disney Fastpass so I would recommend planning ahead. Families with kids note that the minimum height for this ride is 40 inches.
Beyond the neon lights and excitement at Cars Land during the night, two other events at Disney's California event are worth noting. The Mad T Party, inspired by Time Burton's Alice in Wonderland, has a D.J. with live music, dancing, themed treats, drinks, unique entertainment and decorations. Destinations to check out include the Rabbit Hole gateway, oversized tea table, House of Cards and the Mad Arcade and "Drink Me" bar with alcoholic and non-alcoholic beverages.
The second event worth noting is a high tech addition to the World of Color: Disney Glow with the Show Ear Hats with transmitters that change colors to the music and scenes, creating a sea of park-goers wearing mouse hats that emit color-coordinated light colors on a grand scale. The Disney Glow with the Show Ear are also activated at other locations around Disneyland.
To determine the schedule of events each day either check the Disneyland Resort Daily Calender or load the Disney mobile Apps. The Disney Mobile Magic app is available for iPhones or Android phones. For those that want to capture memories and actually be in the pictures, I recommend getting a Disney PhotoPass card.  The card can be used for PhotoPass photographers to take pictures at select areas throughout the park and to get digital downloads of photos on attractions.
All in all, the new rides, food and overall experience of Disney's California Adventure are way worth the trip. There is fun and great food for the whole family with a an attention to detail of the real USA and fictional Disney world that captures the spirit and brings out the kid in all of us. There are ways that multiple ages can enjoy the restaurants and attractions. Somehow all the attractions make me giggle and feel like a kid again, which makes creating memories with my kids much easier!
Tom Staggs, chairman of Walt Disney Parks & Resorts summed it up during a press event "Disney California Adventure is a testament to what we at Disney Parks do best – connecting our guests to the iconic stories, characters and music they love, helping them make shared memories to last a lifetime." Kudos to Disney for their hard work. It was well worth the wait and created mom-son-son-son memories to last a lifetime.
Disclosure: I was invited to the Disney Cars Land opening event as media and as such media related travel expenses are covered by Disney. My words are my own.