BlogHer's 8th annual conference will be held in New York City on August 2-4, 2012 and for the sixth consecutive year I am heading out to join in the fun, connect with my fellow bloggers and hear about the latest blogging & social media tips, tricks, trends and strategies. As I shared in a recent post about what people learned from previous BlogHer conferences: "Because blogging is an isolating activity – BlogHer also invigorates me by connecting with the amazing network of "BlogHers"!
I will be speaking this year (i.e. getting my geek on) at the BlogHer 12 Geek Bar.
Check out the schedule and make sure to sign up for some great sessions. I am leading the discussion titled, " Managing Social Media Via Mobile: Android OS — Maximize your mobile device to get the most of social media! Learn best practices, top apps, and security precautions you need for Android". ANDROID OS users – PLEASE SHARE your favorite ways to use social media on your Android device by commenting on this post. I also look forward to hearing tips from others at the conference.
Because I'm a BlogHer veteran, here are my tips for how to prepare and what to wear to BlogHer 12 – NYC version!
STEP 1 – "The Schedule":  The first step is to confirm all of your travel arrangements including hotel and transportation. Many of us made plans months ago (especially those of us traveling to New York City). Five weeks before BlogHer, I always like to circle back and confirm my travel arrangements. One year, I realized that I had made an airplane "reservation" but not purchased the tickets (luckily I still was within the month before so I made a new plane reservation).
The next step is review the BlogHer12 agenda and start putting together your schedule. Check out the official BlogHer '12 party plan and update your schedule with some nighttime fun. It is important to make sure you plan time to visit the BlogHer Expo to see the exhibits and interact with the sponsors. Those who want to start early can attend the BlogHer Evening at the Expo Hall event the night before the conference. If you are new to BlogHer, there are official parties every night that offer additional opportunities to network. Those who have been to BlogHer before may attend one of many other social events that go on around BlogHer as well. But my key piece of advice is to network as much as is comfortable – but not overdo it.  Don't pay attention to all the crazy plans that everyone else is setting up – create a schedule that works for you and allows you to connect with the bloggers most important to you. Also make sure to reach your hand out and introduce yourself to people you don't know and make new connections.
Step 2 – Take Your Schedule Mobile: To prepare for the busy conference schedule, make sure your personal schedule is not only organized but also on your mobile device via an online calendar or mobile app. One important mobile app to download is the official BlogHer12 mobile app that is available via iTunes for iPhones or the BlogHer12 app for Android phones on Google Play. The CrowdCompass page will also have other mobile apps that are available for BlogHer12. For those with Windows Phones, The Windows Marketplace also has great mobile apps for networking.
I also like to have "backup" paper printouts of my schedule just in case my battery runs out (but some prefer not to use paper). On the topic of batteries – I suggest everyone bring a mobile battery charger because batteries can run out and you will not have time to charge during the day. I will do another post on battery chargers – but I am always happy to help people find one that works for them. The key is not to buy the cheapest – but buy the one that really works. While there are budget friendly mobile device battery chargers that work well, the key is to test it before you leave for the conference and keep the packaging/receipts just in case it does not meet your needs.
Step 3 – Prepare Your Networking Materials: With all the technology available to share contact information, I still prefer good old fashioned business cards. Therefore, my next tip is to make sure you schedule time to print business cards before you leave for BlogHer. I usually print around 500 to have enough for passing out to old and new friends and at the BlogHer Expo hall. Some of my colleagues prefer to print even more. At past conferences I have seen bloggers use creative ways to share their own professional brand by giving away branded screen cleaners, business card holders, bags, bracelets and tee shirts. I have also seen creative business cards that fold and have headshots printed on them. When preparing materials for BlogHer, it is important to comply with the guidelines for sponsored bloggers.
But there are also technology options that can enhance the sharing of contact information. For example, if you print a QR code on your business card then those with QR code readers can scan it to load your contact information. Or even have your QR image on your mobile device to share. Many mobile apps (even SMS applications) share contact information, but when sharing contacts via mobile devices it is also important to consider the security implications. I will cover some of my recommendations in another post  and please do share your favorite contact sharing mobile apps if you have some recommendations.
 St
ep 4 – What to Wear: When attending a conference one of the key questions is what to wear. For social media conferences, all outfits should be camera appropriate for all the pictures and instant uploading that takes place. Personally, I also focus on comfort for my feet to survive all the walking of long days in big conference halls.
I'll admit it… I love wearing heels. I'm always on the hunt for comfortable, stylish shoes and went through years of trying different brands of shoes with heels. I have even tried to find comfortable flats and stylish sneakers. While sneakers are of course the most comfortable, I did not want to give up on my search for the perfect pair of heels. Luckily, several years ago I bought my first pair of Sofft shoes and they passed many years of walking miles at the Consumer Electronics Show. After I had already decided that Sofft shoes were my comfortable and stylish shoe of choice and filled my closet up with different pairs, I did get the opportunity to review some of their new 2012 Spring Summer shoes (disclosure – I received shoes as part of that review, but all of my words are my own). I had already been a Sofft Shoe customer for years before the review opportunity.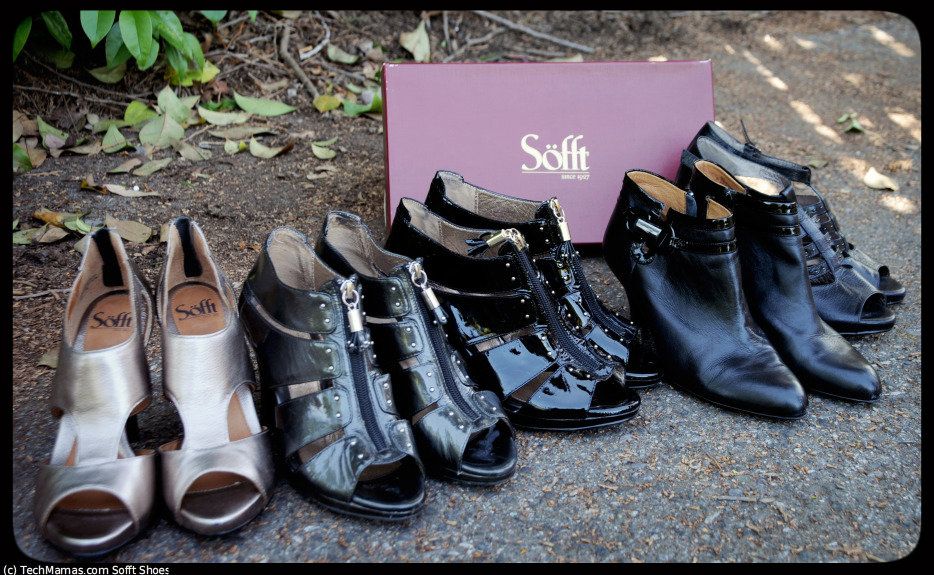 My clothing strategy is to plan something comfortable for the day, that can withstand the heat of New York City in the summer -but also has layering to adjust to air conditioning indoors. Sometimes I will bring a dressy top to change into if I don't have time to switch clothes before the night events. I also bring some dresses to change into for those nights I feel like taking it up a notch. I try to choose outfits that fit within my personal style, but also feel comfortable when I am sitting on the floor at sold out conference sessions. I have also learned that just because I love silver sequin tank tops together with a jacket does not mean that it photographs well on me (sequins can accentuate a twin mom's tummy). I realized that for my shape I like to have solid black or jewel tones, throwing in accent pieces with patterns that works for photographs. I also like to layer with either a shirt, wrap, sweater, jacket. Lately I have been obsessing over the look of women's tailored jackets over tee shirts as a great way to have outfits with clean lines.
Step 5 – At the conference, have an open mind to learn, network, have fun and meet new people: Go to BlogHer 12 with an the goal of learning, networking and having fun. Set a goal to not only connect with old social media friends but also meet new ones. Introduce yourself to the person sitting next to you. Check the pictures of some of the social media BlogHers you read about online but have not yet met and introduce yourself. Take the time to meet new people and ask them about their site and interests. At the same time, try to catch up with your existing social media friends because social networking is not complete without the "live" connection.
I look forward to connecting "live" at BlogHer!