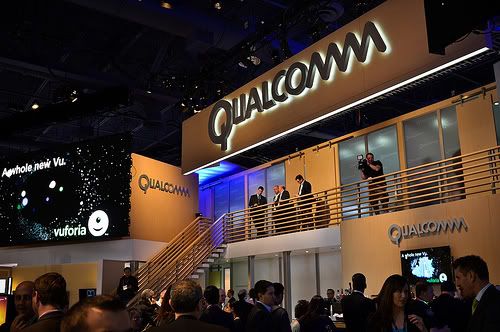 One of my favorite parts of CES (Consumer Electronics Show) is the booth tours that help me learn more about the tech companies and their technologies. For CES 2012, I was invited to a Qualcomm press tour that included a booth tour and briefings on the new technology Qualcomm presented at CES.
I was already well aware of the Qualcomm Snapdragon Processor after years of reviewing mobile phones and tablets.  I have used multiple phones with Snapdragon processors and found the performance to be speedy and responsive (even with the ultra demanding mulit-tasking I demand of my smartphoness). Just recently I gave myself a holiday present by purchasing the Samsung Galaxy Tab from the AT&T store during a sale.  But there are many other devices with Snapdragon processors including the range of my old phone the BlackBerry Torch to my new favorites Samsung Galaxy SII, HTC Sensation 4G, HTC EVO 3D, T-Mobile myTouch 4G Slide , HTC Radar 4G, Samsung Focus Flash. I realized some of the new technology I saw at CES and covet also has Qualcomm Snapdragon processors: Nokia Lumia 900 Windowsphone that has just started pre-orders and Samsung Galaxy Note (tablet/phone hybrid).
And as luck would have it, last week I had the opportunity to obtain an  AT&T Samsung Galaxy Note review unit (that has the  Snapdragon processor with 1.5 GHz dual-core CPUs). I was impressed not only by the Samsung Galaxy Note S Pen offering me the ability to write notes (that can be converted to type) and draw pictures – but that the speedy processor raced between tasks in a device that was the perfect mix of smartphone and tablet.
But it was the CES Keynote with Qualcomm's Paul Jacobs that helped me learn more about their mission of mobile tech to connect phone, tablets, eRreaders and growing list of devices. Qualcomm will be expanding mobile offerings into Windows 8 tablets, more Windows Phones, Snapdragon TV and Augmented Reality by discussing their partnership with Sesame Street (Grover actually made an appearance at the Keynote).
The augmented reality can be experienced on devices such as tablets by utilizing the Vuforia platform to read images and turn them into augmented reality. Sesame Street characters not only become animated but kids can interact or even pick Ernie up!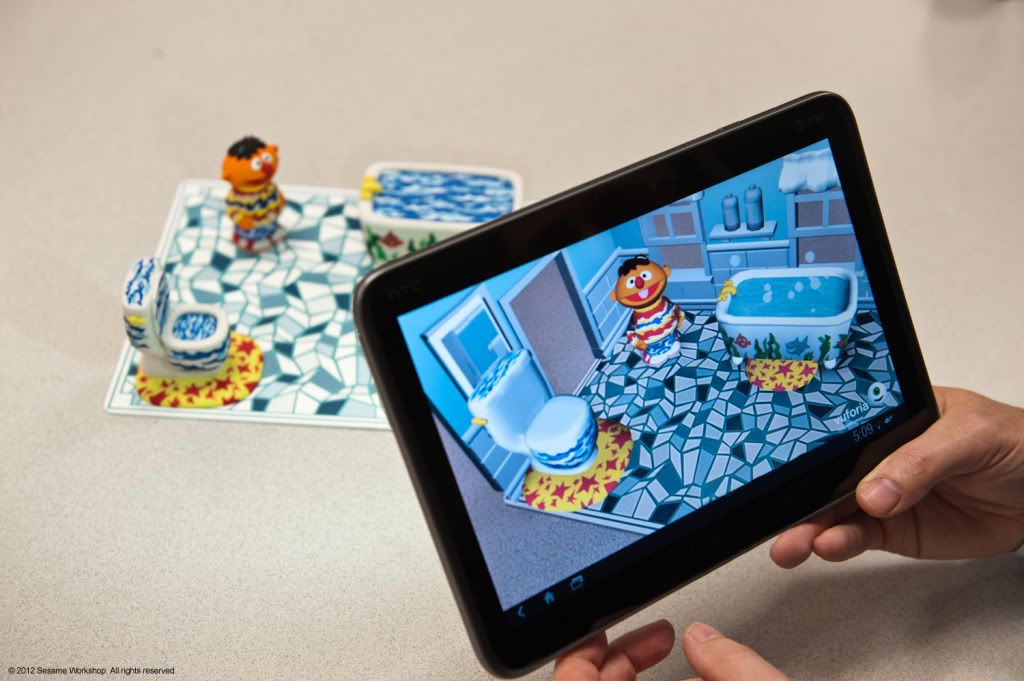 Qualcomm also works closely with top game developers utilizing advanced graphics capabilities in Snapdragon mobile processors to improve the gaming experience in mobile devices. To help mobile users find and access games, Qualcomm created the Snapdragon GameCommand which was just released in the Android Market on January 10, 2012.  Currently there are over 100 Snapdragon GamePack featured games for mobile phones and tablets. Future versions of Games Command will have Augmented Reality games, something I can't wait to start playing.
Along with a selection of wireless health initiatives, Qualcomm announced at their keynote the Qualcomm Tricorder Xprize: a 10 million dollar global competition to revolutionize healthcare. Their goal is to "revolutionize healthcare by accelerating the convergence of mobile, wireless, and health technology". Any fan of Star Trek (yes, I am a Trekkie) can't help but recognize the word "Tricorder" which was used by Star Trek's doctor to diagnose illness. The goal of the Xprize is to bring Tricorder to life (partnership Qualcomm foundation) which translates to teams around world building devices to integrate artificial intelligence, wireless sensing, cloud computing, digital imaging, lab on a chip technology. People could diagnose themselves without going to hospital. Parents especially could benefit from Tricorders, especially when their child is sick at night when the Doctor's office is closed.  At the end of Xprize, the winning technology launches a new industry.
The keynote also discussed the Hanvon C18 e-reader that was released in China. The Hanvon C18 e-reader is the thin, light and uses the Mirasol display technology. The press release added that the Hanvon C-18 e-reader "includes access to tens of thousands of e-books, more than 100 Chinese newspapers and more than 300 magazines, 90 percent of which offer full-color digital editions.  Additionally, the device features Hanvon's patented handwriting recognition technology – Hanvon Input – to further enhance the user experience." I look forward to thinner, lighter e-readers coming to the US, especially those with handwriting recognition technology.
On my tour of the Qualcomm booth I learned about Qualcomm's vision for the Connected Home – which includes blending together broadcast video with services like Netflix. With facial recognition you can walk up to the TV and the interface will recognize your profile, changing to match the device. Connected home technology will evolve to 100's of devices being connected (not just TV – things like light switch etc).  The demos at the booth included the Qualcomm Atheros technology which wirelessly connects and shares content between tablets, smartphones, computers, TVs and other Consumer Electronics Products. One demo at the booth was a tablet game that was shared with two other screens (a PC and a TV). The Skifta Media Shifting Platform was also announced at CES, which "transforms any Android device into a global media remote control, helping consumers access and enjoy their music, videos and photos at home over Wi-Fi and while on the move with 3G."
Another exciting connected home product is the first Snapdragon powered smart TV running on Android 4.0 (made by Lenovo) with Qualcomm's Wi-Fi to deliver real-time Internet video, multi-player online gaming, voice control and local content to home TV's. The Qualcomm Snapdragon Smart TV press release explained "Thousands of apps from Android Market and Lenovo Store, including console games, are ready for access with a simple touch. With full Internet access, consumers can access their favorite songs and videos, share files between the TV and their tablet, smartphone or PC and control the TV via tablet or smart phone. "
Disclosure:  Some CES 2012 Travel Expenses were sponsored by Qualcomm. There was no obligation to post, all my opinions are my own.